A homage to the 10th anniversary of Eminem's official comeback in the rap game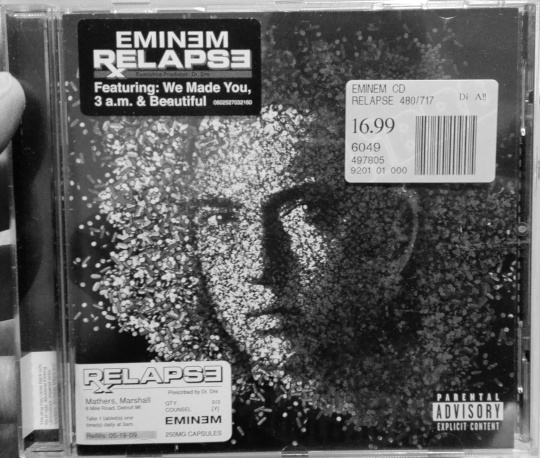 Explaining my thoughts on the beauty of the album, that was released today in 2009.
When Eminem announced the release of his sixth studio album, "Relapse", the stakes certainly weren't low. After all, this would be his first project after a four years hiatus. On top of that, his last release, "Encore", was generally considered to be the weakest output of his career. The reason for his hiatus was as simple as it was difficult: a drug addiction that nearly led to his death due to a methadone overdose.
Relapsing into old Habits
As soon as the first commercials of the album popped up on the internet, I certainly got excited. The first thing that caught my attention were his changed looks. His hair wasn't bleached anymore. Instead, it exposed a natural, brown color. In addition, his facial expression wasn't the one we knew, either. Instead of the boyish man we once knew, we were looking at a serious and angry- looking grown-up.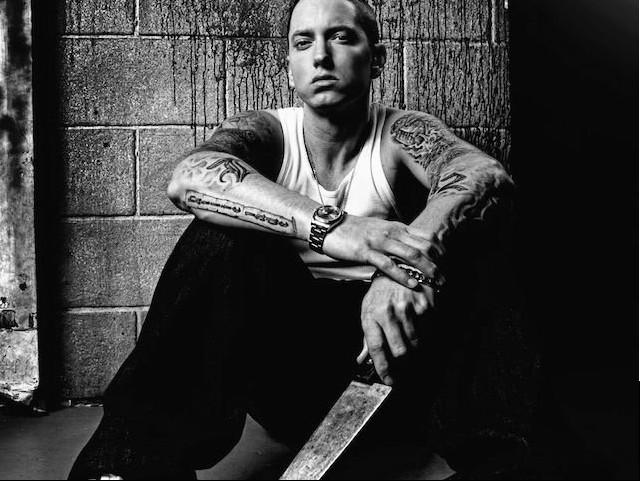 I still remember the excitement at the time. I was 17 and it was like celebrating my birthday and Christmas all, at once when I finally bought a copy of the album. It should be noted, that this was the time in which I had my first experience with illegal drugs: actually, it was just weed but, nevertheless, a hard drug for me at the time. That is why I could kind of relate to the topic of the album (Or at least I thought so).
My expectations towards the general sound of "Relapse", however, were slightly different than its actual sound. Let's get into it.

The Story of "Relapse"
When opening the album's booklet, the first thing to be noticed is a letter that Eminem wrote to his deceased best friend, Proof. It is really sad, but at the same time, he seems to have gotten over the worst part of depression.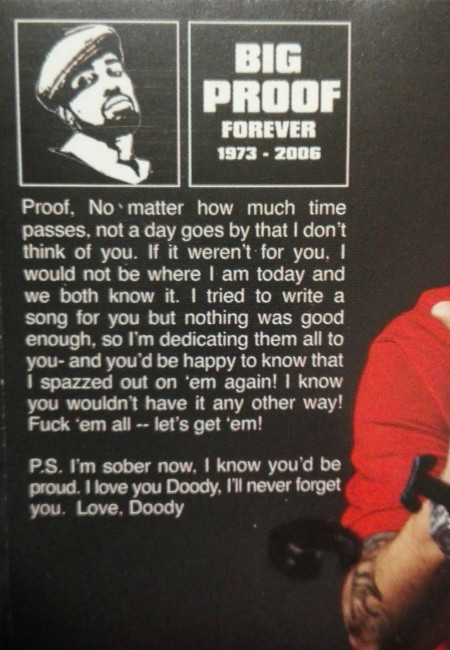 At the moment the album starts with the skit "Dr. West", listeners already know that it's going to be pretty dark. It is about a fictitious relapse into prescription pills. Marshall just finished his drug rehabilitation and is having the last conversation with his doctor in the fictional rehabilitation clinic, "Popsomp Hills". Everything seems to go well until things suddenly turn into a nightmare, and his demons take back control of him in the aftermath.
 "Marshall, you can't leave me, you'll never leave me, Marshall

We'll always be together, Marshall. Marshall? Marshall!!"  
Fictious Reality
While some parts of it are obviously made up, we sometimes can't help but wonder: how much of the stuff he says is actually real? This is especially shown in the album's opening track, "3 a. m":

 "That's when my days of serial murder manslaughter begun

 The sight of blood excites me, that might be an artery, son

 Your blood-curdling screams just don't seem to bother me none

 It's 3 a.m. and here I come, so you should probably run"  
As you can read on the quoted lyrics, Relapse is certainly not, like other Eminem projects, meant to be played on the radio. With the exception of "We Made You", almost every track on it is rather shady. Eminem was known for his horrorcore raps way before the "Relapse" era, but he took them to the top on this project. In "Stay Wide Awake" he displays his violent thoughts explicitily, beating even "3 a. m." in terms of brutality:
  "Young girl by the name of Brenda, and I pretend to befriend her

 Sit down beside her like a spider, hi there girl, you might've

 Heard of me before, see whore

 You're the kind of girl that I'd a–ssault and rape

 Then figure why not try to make your pussy wider

 Fuck you with an umbrella

 Then open it up while the shit's inside ya"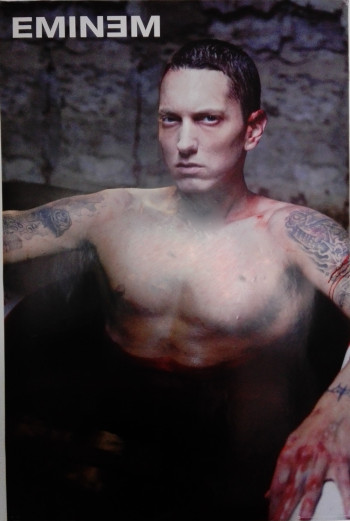 But how did it come to Marshall's addiction and therefore the concept of the album in the first place? Beside his best friend being shot, his explanation is simple:
it was because of his mum. I mean, what do you expect from a child whose mother
 "killed the fuckin' dog with the medicine she done fed it

 Feed it a fuckin' aspirin and say that it has a headache"?  
Moreover, Marshall's feelings toward his mother seem to have changed to the positive, comparing the track to 2002's "Cleanin' Out My Closet". In the end of "My Mum", which is the second song on the album, he even admits, that he still loves her though, after apologizing for making her the lead character of the song.
Production and Lyrics on "Relapse"
Production-wise the CD is over the top. It isn't surprising, after all, as the producer was none other than the legendary Dr. Dre. The beats are simple: pure hip hop beats consisting of drums, kicks and snares, not like the trap crap they use nowadays. If you liked the sound of "The Slim Shady LP", then you will certainly like the sound of "Relapse".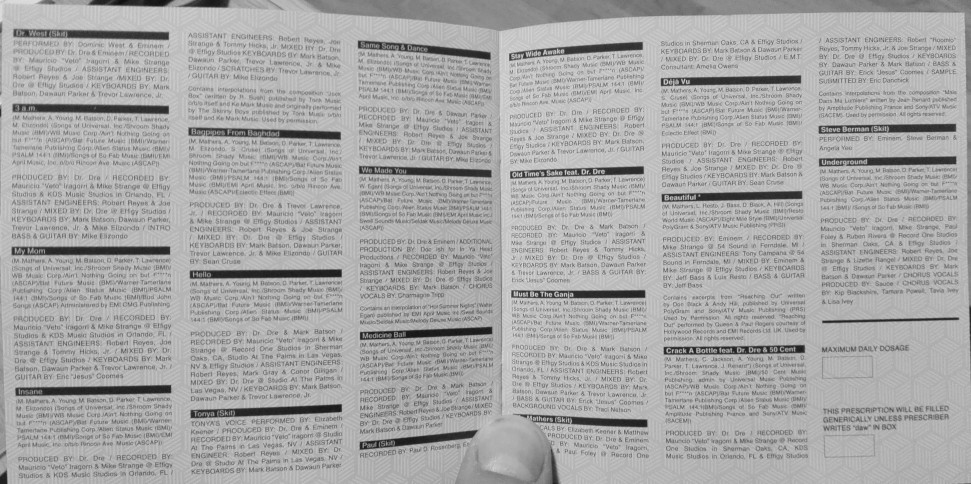 The lyrics are impressive too. What most of you probably don't know, is, that Eminem had to actually relearn rapping before recording "Relapse". He had to figure out how to make words rhyme and, therefore, used a strange accent over the entire album. Doing so helped him to rhyme words, that normally don't rhyme. It took me a while to get used to the different pronunciation of the words, but after doing so, I really started enjoying it. The whole thing gives the whole serial killer concept a really credible touch.
Resuscitated and rejuved
The accent especially comes to display in the track "Hello". It serves the same purpose as "My Name Is" did in the "Slim Shady LP": introducing, or in this case reintroducing, him to the world:
 "Hello

 Allow me to introduce myself

 My name is Shady

 It's so nice to meet you"  
He first and foremost mentions a lot of drugs he had been taking during his hiatus.
 "A knapsack packed with like forty-some Xanaxes

 Shorty come back, I'm tryna score me some lap dances

 I'm 'bout to relapse, so baby pour me some Jack Daniel's

 Formula 44D and 40's with bad capsules  

 The bad apple spoils the bunch, I'm back at ya"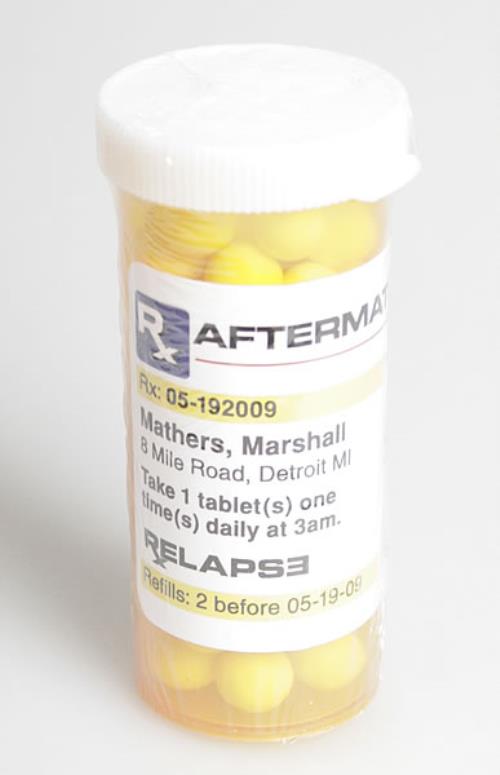 The end of the track is an announcement, that fans had been waiting for since the album was announced to be released:
 "Almost ended it that soon because of the fact

 I'm just busting my own chops while I'm busting a rap

 Resuscitated and rejuved, so fuck it, I'm back"  
Although the album is violent, there are some funny tracks on it, like "Bagpipes from Baghdad" and "We Made You", for instance. On these tracks Eminem shows that he still hasn't lost his sense of humor and you wonder sometimes, why he didn't actually become a comedian instead of a rapper.
Feels like Déjà Vu
As "Relapse"'s running time gets longer, however, the tracks get more serious. He digs very deeply into detail in the last fourth of the album on the track "Déjà vu". It is easily one of the best story-telling tracks in rap history. The track's whole content fits together perfectly, and it tells a detailed story with a couple of sub-stories from the beginning to the end.
What makes the track so special in my opinion is the honesty with which it is delivered.
 "I seem to gravitate to the bottle of NyQuil then I salivate

 Start off with the NyQuil, like, I think I'll just have a taste

 Couple of sips of that then I gradually graduate

 To a harder prescription drug called Valium, like, yeah that's great

 I go to just take one and I end up like having eight"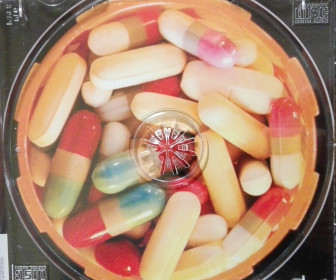 In the truest part of the album he admits why he started doing drugs in the first place:
 "Wouldn't even be taking this shit if DeShaun didn't die

 Oh yeah, there's an excuse; you lose Proof so you use

 There's new rules, it's cool if it's helpin' you to get through"  
This is actually the only time on the album that Proof gets mentioned and it made me cringe the first time I heard it. Although the track is delivered in a rather funny way, its message is very serious. It ends with the following lines:
 "Go in the room and shut the bedroom door

 And wake up in an ambulance

 They said they found me on the bathroom floor, damn"  
Hiding behind the Tears of a Clown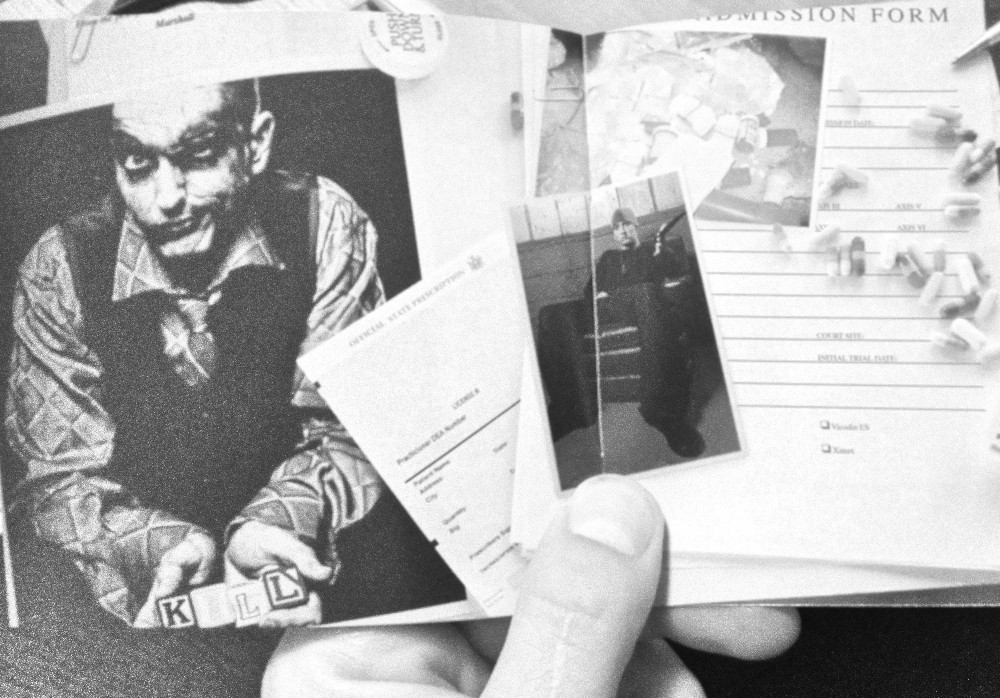 After "Déjà vu", we get to see a man at his weakest. In the track "Beautiful", he seems to have given up hope, but at the same time, he tells fans, as well as himself:
 "But don't let 'em say you ain't beautiful

 They can all get fucked, just stay true to you"

In an interview on the track with Vibe in the June of 2009 he told them:

"At the time I felt like, 'This is it for me.' I wrote the first verse and a half in rehab, and when I came out, I finished it."

Source: Vibe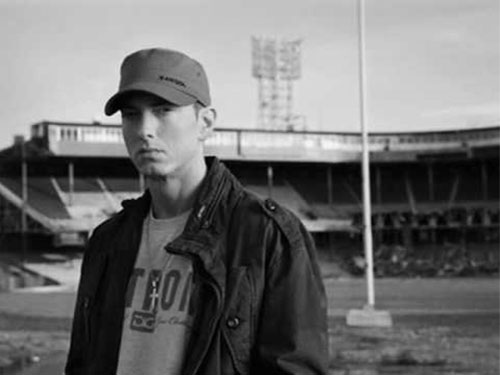 "Beautiful" is the only song on "Relapse" that was entirely produced by Eminem. The track is a conceptual masterpiece and in my opinion the best song on the album. It follows him through the worst days of his depression and addiction.
 "So why don't you all sit down?

 Listen to the tale I'm about to tell

 Hell, we don't gotta trade our shoes

 And you ain't gotta walk no thousand miles—"  
At first he seems to think that people have not to go through what he went through to actually understand his pain. It isn't until the end of the song that he comes to the realization, that he would have to trade his shoes with his audience in order for us to actually feel his pain. The third part is the strongest in my opinion:
 "Nobody asked for life to deal us

 With these bullshit hands we're dealt

 We gotta take these cards ourselves

 And flip 'em, don't expect no help"  
If you want a different outcome to a situation, you have to change it yourself, rather than waiting for better times to come. The outro is directed at his audience:
 "Be yourself, man, be proud of who you are

 Even if it sounds corny

 Never let no one tell you you ain't beautiful" 
…an encouragement to both, himself, and his fans, to not care about the opinion of others and rather be happy with oneself.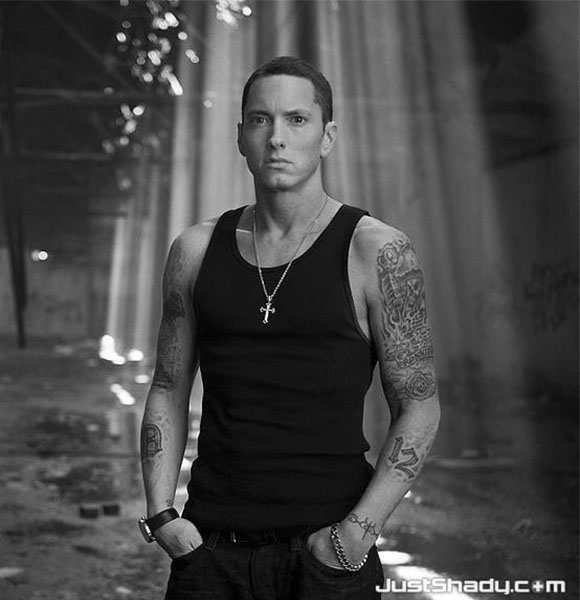 Skits & Collaborations on "Relapse"
As a concept album, "Relapse" would feel empty without some funny skits. That is why we get to hear almost every relevant member of the Shady crew, in one way or another. For instance, Em's long-time manager, Paul Rosenberg, who tells him, as he always does, to turn the album down a little bit.
We even get to hear the presumed dead Steve Berman, his moody label boss. This time, however, he is the one that points the gun.
The collaborations are also quite enjoyable. Like in "Crack a Bottle", where we get to witness the comeback of the legendary platinum trio. All three of them deliver more than solid verses in the track, although 50 sounds like he had a cold while recording it.
In the last track of the album, "Underground", Slim Shady gets into beast mode. It is definitely the track with the best wordplay on the album, some vicious punchlines and murderous rhymes. On this track Eminem tells his audience exactly where he's been in the four years prior to the release of Relapse.
Last thoughts on "Relapse"
All in all, Relapse is one of the best concept albums to ever be released.
Tracks like "Déjà Vu" and "Same Song and Dance" are the ultimate proof for this claim. The latter mentioned track follows him on a killing spree, whom Lindsay Lohan as well as Brittney Spears fall victim to.
Over the course of the album, a whole lot of drugs are mentioned, which makes it easy to believe that it glorifies drugs. But the simple truth is, Marshall Mathers is just being honest about his consumption. By listening to "Relapse", you get into the mind of a drug addict: it's that simple.
I admit that the accents seem annoying at times, but you have to consider that this is how he thought at the time. "Relapse-Eminem" is the closest thing we will probably ever get to the "Old Eminem", whom people always talk about. That alone is a reason why the album should be more appreciated.
I will always connect the album with my memories of smoking weed. This was the first time that I really felt what addiction was like and that you indeed have little control over it.
Ultimately, "Relapse" shows what depression and addiction combined are capable of doing, and Marshall Mathers shows us that he is in fact a normal human being with flaws like everyone else. We can be happy, however, that he made it out alive.
This is the reason why "Relapse" is beautiful.
Please follow and like us: